"E-Buy" – Camp26 E-Buy Template, Special Joomla e-Commerce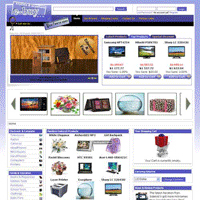 Camp26 E-Buy Template is new commercial template in August from Camp26 Joomla Team. This template is very special and have great functions for your e-commerce site and also usefull for other purpose.
We provide this template for Joomla 1.0.x & Joomla 1.5.x native and also  available quickstart (joomla quickinstaller, so you can get the same live site like our demo) for Joomla 1.0.x and Joomla 1.5.x native.

Some featured in this template are:
Native Film Slide (with Fade in/Fade out style) Plus Information Text
Unique Link for Register or Account
Fixed Virtuemart CSS
Multiple Color (Original, blue, pink, silver and green)
Five Native Tabs
Special Qtip (It's Active when the link have Title)
Available Images Menu (CSS FIXED)
Native Ad Ico in right position of template (optional)
Special Design for Commercial site (PSD available)
Native Dropline Menu
A Lot of Modules Position for your product(s)
Automatic Banner MouseOver
Skin Changer (at bottom right position)

Features Include in the Package and Quickstart:
Virtuemart 1.1.2 Stable (Component, Modules, Plugins/Mambots) for Ecommerce/Eshop System (virtuemart Addons)
Flywheel Showcase Module for Special Products Gallery (Camp26 Addons)
Amazon Carousel Widget (SpecialHTML – Camp26 Addons)
Virtuemart Multiproduct With Image(s) (Camp26 Addons, Special For Camp26 E-Buy Template), This module have several option, they are Latest Product With Image, Top/Popular Product With Image, Special/Big Discount Product With Image, Oldest Product With Image, Less/Unpopular Product With Image, the most smaller Discount Product With Image.